THE PATCH HUNTER RETURNS (FOR THE LAST TIME)!
5.11 HEATS UP THE NEW PROMOTION WITH A GREAT DUFFLE BAG
PATCH HUNTER RETURNS posted by Lukas on December, 05, 2016 in 
Special Offers
 tagged with gift news military1st promo promotion contest offer 511freebie gym gym bag 5.11 competition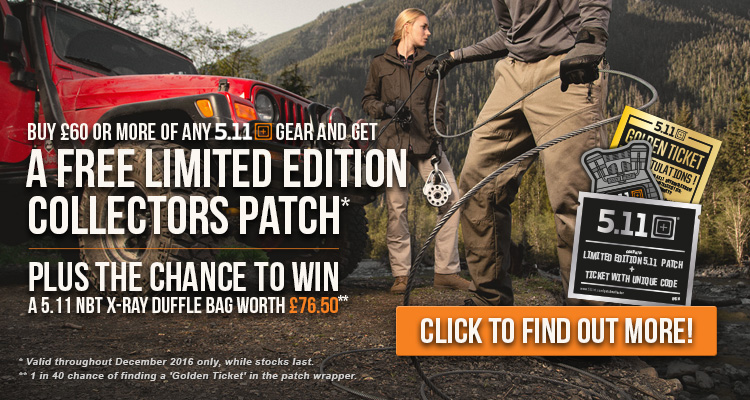 PATCH HUNTER RETURNS Were you scraping the ice out of your windscreen today? We did. It was rather a chilly start to the day, and at 7 in the morning, our car looked like something out of the winter wonderland. Pretty, but let's be honest, it's still a bother. We've used the brand new Military 1st Pocket Callendar 2017. It turns out it's always a good idea to keep one in your wallet: it's so handy and versatile! Feels like we'll be going to use it a lot. It's December after all, and the winter has arrived. But here is something to heat the things up a little: a new exciting 5.11 Patch Hunter campaign is now on.
Following March and September editions of this successful promotion which you might have taken part in yourself, the December one gives us yet another unique patch and more. If you received your Limited Edition Collector's Patch before, then we guess you know what's this all about. If not – we are happy to explain (it's not that complex). Simply, by buying quality 5.11 garments and gear you're getting a chance to win something big: more great 5.11 apparel and accessories but also an adrenalin-fuelled adventure of a lifetime guaranteed by the 5.11 team!
PATCH HUNTER RETURNS
The rules are crystal clear. All you need to do is to buy any 5.11 Tactical products worth £60 or more from Military 1st online store. In exchange for your purchase, we are going to give you the new 5.11 Limited Edition collectors patch for FREE*. But that's not all. During the December campaign, 1 of 40 consumers who will receive the patch has the chance of winning a 5.11 NBT X-Ray Duffle Bag worth £76.50**. How does it work you may ask? It's because 1 of 40 patch wrappers we'll send away with eligible purchases, apart from containing the patch and the usual code ticket you must register, also includes the 'Golden Ticket' which entitles its owner to get a hold of this sexy pack absolutely free. Awesome, isn't it?
5.11 NBT X-Ray Duffle Bag features a spacious main compartment and a small inner zippered mesh pocket. With its wide opening and a large zipper you get a full and quick access to all your belongings, be it equipment for work or gym gear. Moreover, the zip is lockable to ensure the safety of stored goods, and it comes with convenient glove-friendly pulls. There is also a single zip pocket at the front of the bag, again with a glove-friendly pull, which is ideal for keeping small items and essentials that need to be at hand. Placed over that pocket is a sturdy, laser-cut web platform with a loop exterior, for various customisable attachments like patches, badges, flags, IDs, etc.
5.11 NBT X-Ray Duffle Bag comes with three sets of separate strengthened grab-and-go handles, including two single ones at each end and two straps on the top that can be joined with a hook and loop. Moreover, there is a detachable shoulder carry strap, complete with a removable and air mesh padded non-slip pad. The pad itself features a laser-cut web platform too, with a loop exterior for further accessories. In addition, there are four useful and robust compression straps at the back and the front of the bag with long-lasting ladder lock buckles. All these tough handles and straps allow adapting the carry style to both the loadout and the journey, for example by keeping cargo secure and stable and providing a more comfortable carry option when travelling long distances.
Constructed of high-grade, rip-resistant and back-coated 1050D Nylon composite, 5.11 NBT X-Ray Duffle Bag is wind, rain and weatherproof, reinforced to endure the severest environments and to keep the cargo dry and clean at all times. Furthermore, self-healing YKK zipper hardware, original toughened Duraflex accessories and bartacking at all the key stress points guarantee steady and reliable performance, enhanced durability and flexibility. With a total capacity of approx. 5985 cubic inch / 98 litres, 5.11 NBT X-Ray is the ultimate tactical duffel bag, excellently sized to keep up with any pace and accommodate all the gear you could need for your next call.
It is worth adding that 5.11 NBT X-Ray Duffle Bag comes folded and stacked neatly inside a durable mesh zip bag. This is a great little addition from the 5.11 team as it can act as a secondary travel kit, toiletry bag or simple see-through internal organiser.
Just like before this edition's collectors patch comes in a foil wrapper and holds a slip of paper printed with a code. The code is UNIQUE for each patch and is an ONE-TIME USE ONLY. Collecting and registering all four patches available throughout the promotion gives you a chance fo winning the Grand Prize and a couple of smaller ones.
Patches can be registered at the 5.11 Tactical patch collector page HERE. Please spare a minute to read the rules available at the Help and Info section. Remember, if you miss a patch and/or promo code neither 5.11 Tactical nor Military 1st can supply you with a new or extra one. This is why we advise you to regularly check our newsletters and social media pages (Facebook, Twitter, Instagram, etc.) to know when the campaigns are active.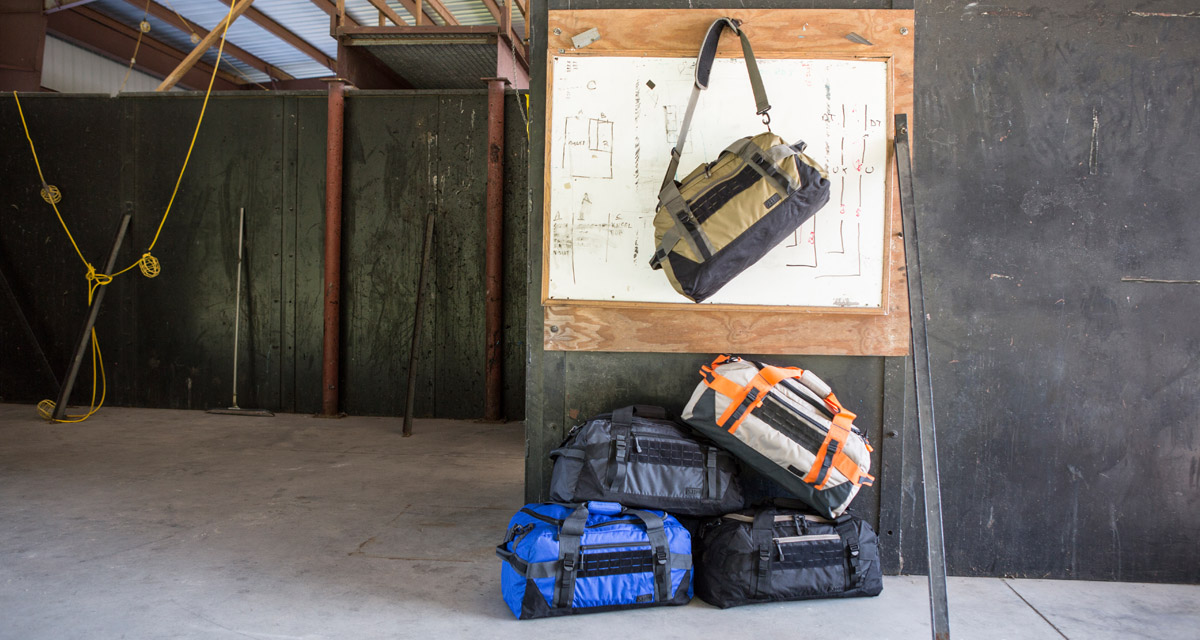 *Hurry up: visit our website today as this special offer is valid only while stocks last.Click Here…