INTO THE WOODS
CLASSIC WOODLAND CAMO NEVER WENT OUT OF FASHION
INTO THE WOODS posted by Lukas on June, 05, 2017 in News tagged with news military1st gloves mechanix wear protective gloves sale camouflagem-pact airsoft gloves original safety gloves tactical gloves combat gloves woodland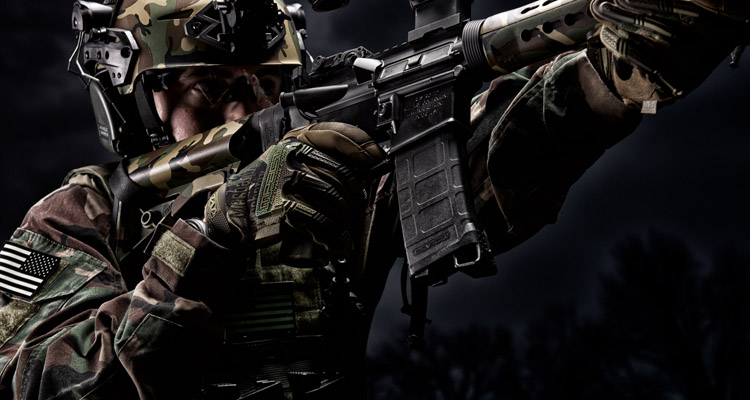 INTO THE WOODS Until the mid-2000's, the Woodland was the default camouflage of the U.S. Army personnel, first issued with the well-known Battle Dress Uniform (BDU). Introduced in 1981, the camouflage is a high contrast disruptive pattern with asymmetrical markings in tan, brown, green and black. The combination of these four colours proved to work great in mountainous, jungle, wooded and tropical environments with varying vegetation.
INTO THE WOODS Also since its debut, Woodland has been one of the most duplicated and altered camouflage patterns ever designed. It is certainly one of the best known, immediately associated with the military look. Today is used by various military forces around the world, particularly for uniforms and accessories, body armour and load-bearing equipment, webbing and more. It's also a common sight in the fashion world.
Of course, Military 1st online store offers a range of quality outdoor clothing and military-style apparel in this universal pattern. Just visit our Woodland camo category to see it all. You will notice that our collection now also includes the brand new Mechanix Wear tactical gloves. This year the company introduced a range of their top quality gloves in revived Woodland camouflage, created in partnership with 1947, LLC. As the company describes, this new pattern is 60% larger compared to the previous Woodland camo lines providing enhanced irregularity to prevent colours within the pattern from "blobbing" at a distance.
Famous Mechanix Wear M-Pact tactical gloves feature classic 0.8mm synthetic leather to protect the palm and fingers from abrasion, and anatomically designed Thermoplastic Rubber (TPR) on the back of the hand which absorbs impacts and resists nasty scratches. Furthermore, the palm is additionally reinforced with Armortex and equipped with XRD palm padding to reduce vibration and hand fatigue. Dual-layer internal fingertip reinforcements provide added durability to the fingertips, and embossed and textured index finger and thumb provides added grip. Moreover, Thermoplastic Rubber (TPR) closure with Nylon pull loop provides a secure fit to the wrist while a form-fitting Woodland camo TrekDry fabric keeps hands fresh and comfortable. All those features, of course, decided that Mechanix Wear M-Pact tactical gloves have quickly become a norm amongst military, law enforcement and shooting enthusiasts.
Mechanix Wear Woodland Original gloves also feature durable and seamless 0.8mm synthetic leather protecting palm and fingers from abrasion. Moreover, these tactical gloves are equipped with reinforced thumb and index finger for added durability while Thermal Plastic Rubber (TPR) closure with Nylon pull loop provides a secure fit. Here, the breathable form-fitting Woodland TrekDry fabric adapts to the natural movement of the hand keeping it cool and comfortable regardless what the mission is.
These Mechanix Wear gloves are now available at Military 1st online store right now so why not grab a pair? They are unquestionably worth it! Moreover, you can take advantage of our current promotion: Woodland Sale! Until 9 June we give 10% discount on all products in Woodland camouflage (except for those already discounted) with code: WOOD17.
More info visit site Click Here….
INTO THE WOODS