PATRIOT AND LIBERTY
HELIKON'S TWO FAMOUS FLEECES LIFT THE SPIRIT THIS INDEPENDENCE DAY.
PATRIOT AND LIBERTY posted by Lukas on July, 03, 2017 in News tagged with jacket polar fleece 
heavy fleece patriot
fleece news military1st promopromotion sale discount fleece jacket polar jacket helikon hoodie liberty fleece helikon-tex hooded fleece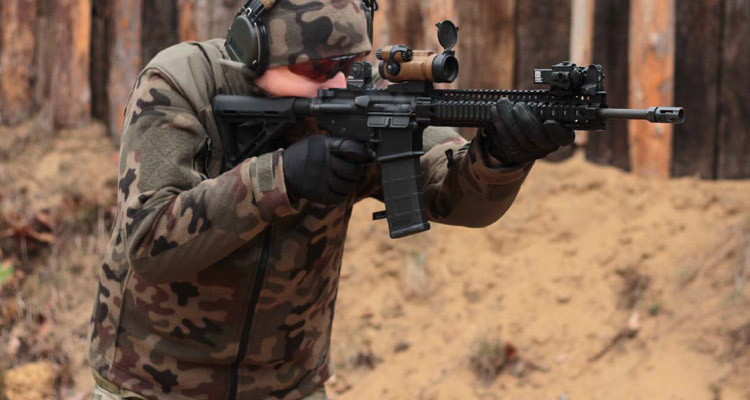 PATRIOT AND LIBERTY This week, as our friends across the pond are celebrating their Independence Day, we've decided it's a great excuse to present two of our best-selling fleece jackets, suitably named Patriot and Liberty.
PATRIOT AND LIBERTY Precisely designed and manufactured by Helikon, these are heavy duty fleece jackets, both intended for tactical use. And especially in the extreme weather and cold environments as they offer extreme level insulation. However, these are excellent for everyday wear too, and when things get too hot, you can always adjust the temperature inside using long ventilation zippers placed under each armpit.
Patriot and Liberty come with straight, comfortable cut and a full front two-way YKK zipper with inner wind flap and chin guard. Moreover, to ensure personalised and snug fit and provide extra protection against cold wind Helikon applied Hook and Loop adjustable cuffs with subtle branding and elastic drawstring adjustment at the bottom hem.
Both fleeces have a total of six pockets, and you'll be surprised by the amount of gear you can fit in. There are two zippered pockets on each upper sleeve and one on the lower left sleeve, all intended for carrying small essential items. At the front, there are two outer chest pockets, easily reachable and with supplementary inner device slots, wiring eyelets and D-Rings. All those practical features are perfect for organising headphones and larger tactical items, fixing keys and similar objects. Finally, large channel pocket at the lower back, with long zippers on either side, is ideal for storing bigger objects, folded pieces of clothing and so on. Furthermore, there are Loop panels on each upper sleeve for personalization, e.g., attaching IDs or patches.
But Patriot and Liberty are not entirely similar. To provide the additional resistance from the usual wear and tear, much needed for tactical operations in full gear, Liberty comes with reinforced shoulders and elbows, while Patriot only has profiled elbow reinforcements. But ultimately the first one is missing the hood, which is Patriot's primary characteristic, and only comes with a stand-up collar with retention. In our opinion, Patriot is definitely the most advanced one in Helikon's collection of fleeces and its hood is the central feature. Fully adjustable thanks to the elastic drawcord and integrated with a high collar, it's peaked and lined with micro-fleece offering further protection.
Available in various colours and camouflage patterns including MultiCam and Flecktarn, Patriot and Liberty are suitable for both Military and Law Enforcement use. But not only. They are appreciated by civilians too, including outdoor enthusiasts, hunters and wildlife photographers alike. And we are sure that virtually anyone who needs heavy-duty, warm, versatile and functional outer layer with high insulation to face the elements will be happy wearing one.
Moreover, if we managed to convince you that you need these two amazing polar jackets in your life, you can take advantage of our current promotion: Fleeces Sale! Until 6 July we give 10% discount on all products from our Fleeces category (except for those already discounted) with code: UNIFORM17. So you can save big on all our tactical and combat fleeces, technical polar jackets, pullovers and hoodies.More info Click Here…
PATRIOT AND LIBERTY