Go Genuine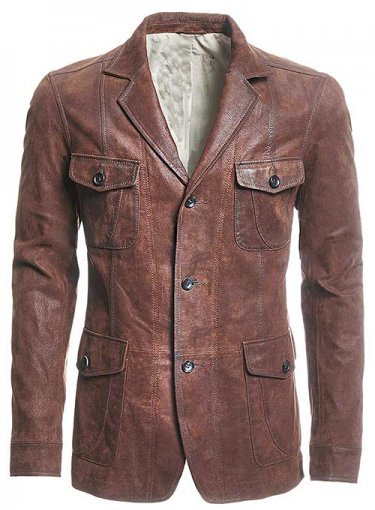 Go Genuine
Go Genuine Don't be fooled by fake or faux leather blazers. Unfortunately, there are some companies out there who sell blazers made of this artificial leather material. While leather is made of natural animal hide, these materials are made of synthetic materials. As such, they lack the visual characteristics and attractive qualities of leather that make it such as a popular fabric. Faux and fake leather blazers are rough and have an unusual chemical odor to them. Avoid these imitation leather products and stick with the real deal instead. You can expect to pay more for a 100% genuine leather blazer, but again, you have to think of it as an investment: while it costs more than a fake leather blazer, you'll get more use and enjoyment out of it.
Match with Your Shoes
A good rule of thumb to follow when wearing a leather blazer is to match it with your shoes or footwear. If you're wearing a traditional brown leather blazer, for instance, pair it with brown shoes. Or if you're wearing a black leather blazer, pair it with black shoes. This isn't limited strictly to leather blazers; it applies nearly all forms of coats, jackets and outerwear. By matching your blazer with your shoes, you'll create a more cohesive appearance in which all of the elements in your outfit flow together. On the other hand, you shouldn't attempt to wear mismatching colors, such as a brown leather blazer with black shoes.
Choose the Right Shirt Color
In addition to choosing the right color shoes, you should also choose the right color shirt when wearing a leather blazer. Some people assume that it's best to wear a shirt in the same color as their blazer. In some cases, this may work. In most cases, however, it doesn't. If you wear a brown leather blazer with a brown shirt, the two garments will blend together to appear as one — and that's not particularly attractive. Instead, try wearing a shirt in a color that contrasts with the color of your leather blazer. A black leather blazer with a white t-shirt is a simple yet stunning combination there's sure to turn heads.
V-Neck
You don't have to limit yourself to only wearing crew-neck shirts and tops with a leather blazer. Many professional stylists actually recommend v-neck cuts because it draws attention to your upper body and blazer. Of course, v-neck shirts are also more comfortable to wear during the summer. As the temperatures become warmer and warmer, you may find it uncomfortable to wear multiple layers, especially with crew-neck shirts. A v-neck shirt, however, is a cooler alternative that's guaranteed to keep you more comfortable during this time of year.
Jeans or Trousers?
For pants, you really have one of two options from which to choose when wearing a leather blazer: you can wear jeans or trousers. Jeans are obviously more casual, while trousers are more formal. With that said, you can still wear jeans as part of a semi-formal outfit. The key thing to remember is that you should choose a darker denim color, such as indigo. Dark-colored jeans with a genuine leather blazer is an excellent combination, regardless of the season or time of year.Click Here…