LEWIS LEATHERS AND TRIUMPH

LEATHERS AND TRIUMPH
LEATHERS AND TRIUMPH Early in 2010, Ian O'Reilly, Triumph's then Clothing and Merchandising Manager contacted us regarding a possible collaboration, the idea was initially discussed over coffee in a Cafe in Rathbone Place W1 and afterwards at the Lewis Leathers shop in Whitfield Street. Two jackets were to be made, with shoulder and elbow armour, in Lewis Leathers' classic style these were named the Rathbone and Whitfield jackets.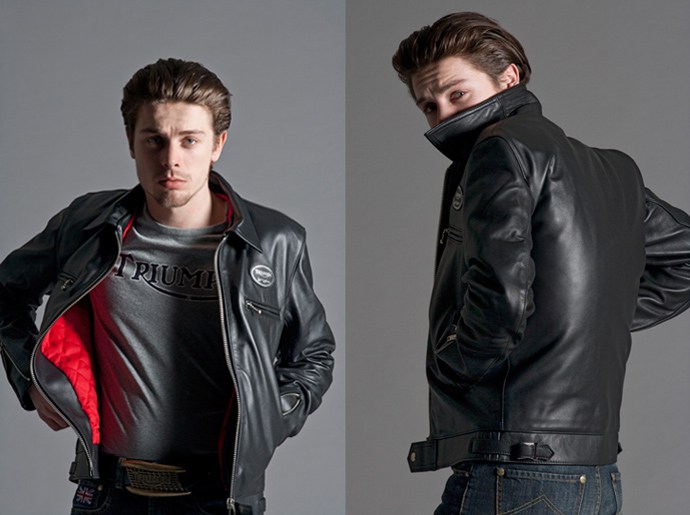 Above, the Rathbone jacket in plain black.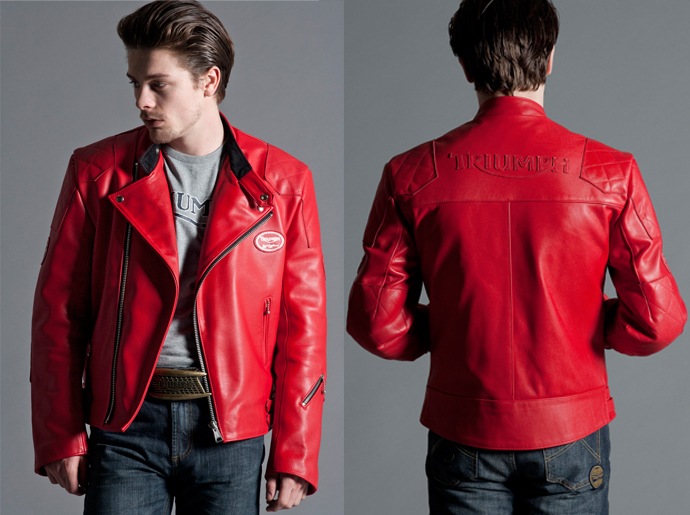 Whitfield jacket above, with leather Triumph logo applied to the shoulder yoke.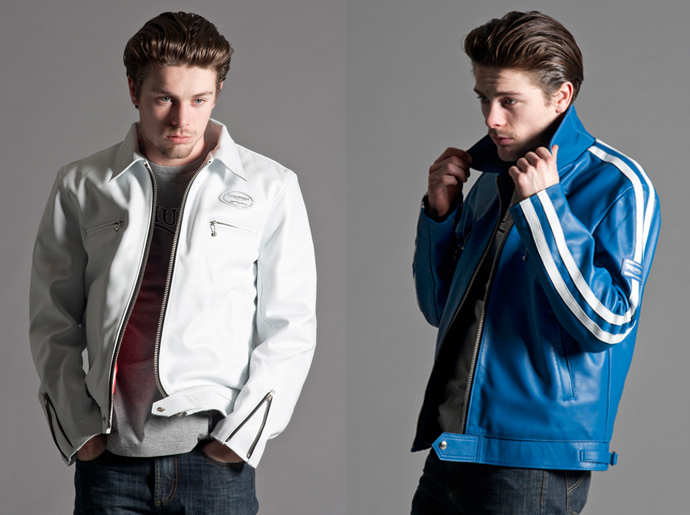 Left, the Rathbone in white leather and a customised version on the right.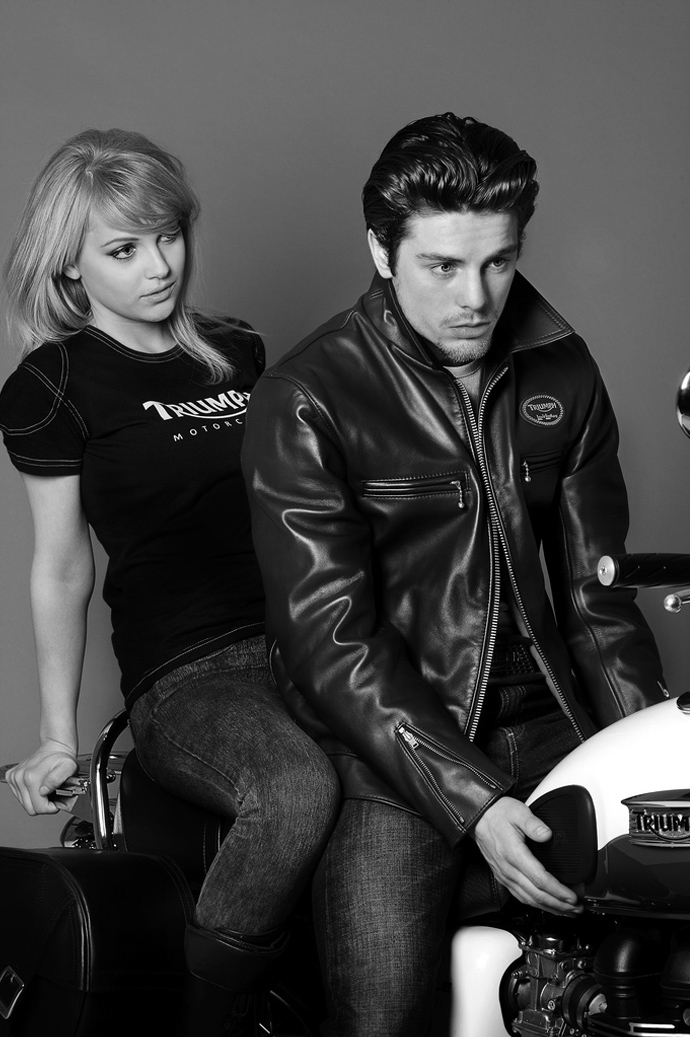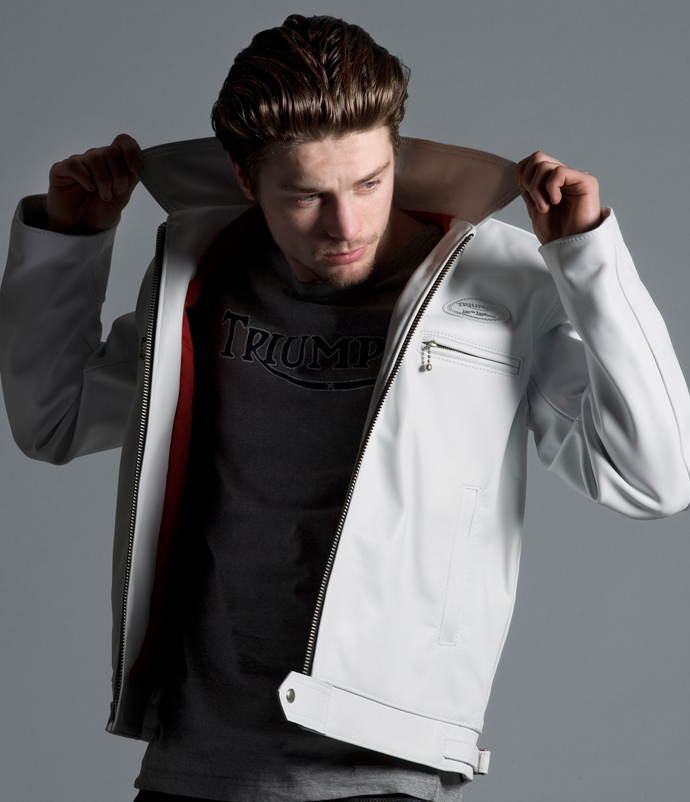 The jackets are only available through official Triumph dealers and these can be found on the Triumph website. See Triumph's description below for more information.
TRIUMPH BY LEWIS LEATHER
Triumph By Lewis Leathers

Triumph and Lewis Leathers have collaborated for Spring Summer 2011 with two distinctive heritage leather jackets which can be customised.
Triumph and Lewis Leathers are two authentic British brands synonymous with the Ton Up Boys and Rockers subcultures of the 1950s and 1960s. It was a period of rebellion and riding where the jacket of choice was a Lewis Leathers lancer style jacket, customised with wording, patches and pin badges. Lewis Leathers then became iconic through the punk era of the 70s and then worn by modern day stars of screen, music and fashion such as Ewen McGregor, Ronnie Wood, John Lennon and Kate Moss.
Now both of these modern day brands have joined to offer two classic styled leather jackets, the Whitfield and Rathbone. Both are constructed from premium leather and carry the 'Triumph by Lewis Leathers' branding to chest and inside labelling. The iconic red quilted lining adds an extra quality and is distinctive to the Lewis Leathers products. The jackets are hand-made in London, England.
The Whitfield has a wrap over lancer front and snap down lapels. Reinforced diamond padding to the shoulder, corduroy collar lining and a fully adjustable waist band complete the look. Also included are shoulder & elbow pockets for protectors, with CE protectors included. The Whitfield can be customised by selecting from seven leather colours (including black) for the main body and padded panels, arm patches and a choice of Triumph leather cut-out logos for the back.
The Rathbone has a snap down collar design, single piece back panel and fully adjustable waist band. It also includes the shoulder & elbow CE protectors and pockets. The Rathbone is also available in the seven base colours and can be customised with double arm stripes, patches and logos.
Both jackets are available to order exclusively via Triumph authorised dealers and will retail for £700 (standard) and £750 for customised versions.
You can visite the Triumph website HERE