How to Rock a Leather Blazer (The Right Way)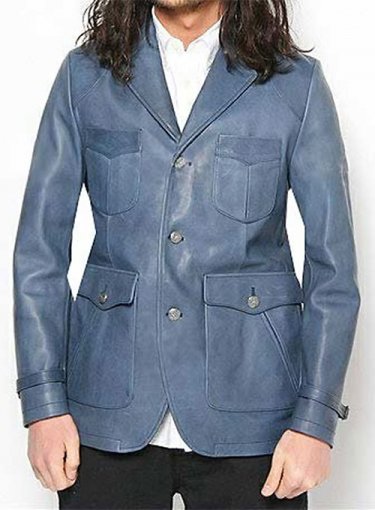 Rock a Leather Blazer Thinking about investing in a new leather blazer? Well, you've made the right choice! Few garments offer the same level of versatility as a leather blazer. Combining the elements of a traditional blazer with the attractive properties of leather, it's a stunning addition to any wardrobe. With that said, however, many people are never worn a leather blazer, so they don't know the best way to style them. If this sounds familiar, keep reading for some helpful tips on how to rock a leather blazer… the right way.
What is a Blazer?
Before we begin, it's important to note that a blazer isn't the same as a sports coat or suit jacket. Some people assume these three garments are the same, but this isn't necessarily true. While sports coats, suit jackets and blazers all share some common similarities, there are subtle nuances separating them from one another. A blazer, for instance, falls somewhere between a sports coat and suit jacket in terms of formality. It's more formal than a sports coat, but not quite as formal as a suit jacket. Therefore, it's the perfect "balanced" form of outerwear for casual, semi-casual and even some formal occasions.
One, Two or Three Buttons?
When shopping for a new leather blazer, you'll notice that they come in a wide variety of button configurations, the most common being one, two or three buttons. Ultimately, only you can decide which button configuration is right for your leather blazer, but remember that it's usually best to leave the bottom button undone, unless it's a single-button blazer. This allows for a cleaner and more cohesive appearance that compliments your body figure. Leaving the bottom button undone also makes the blazer more comfortable to wear when sitting down. For these reasons and others, it's best to leave the bottom button undone on your blazer.
Choose the Right Size
A high-quality leather blazer is an investment, and as such, you should treat it that way. Take the time to find the right size when shopping for a leather blazer. If it's too big, it will look awkward and unattractive. If it's too small, it may restrict you from moving around, which can be particularly uncomfortable if you're an active individual who's always on the go. While you can always roll the dice and "hope" you find the right size leather blazer at your local retail store, a better option is to order it here from LeatherCult. We offer custom sizing on all leather blazers, jackets and other garments at no additional charge. After you've found the perfect leather blazer and added to your shopping cart, you can specify your body measurements, which we'll use to customize your blazer so it fits just right.Click Here…