Perfect Biker Jacket
#4) Quilted Interior
Granted, not every biker needs a leather jacket with a quilted interior; some prefer jackets without this soft interior lining. But if you plan on riding your motorcycle during the cold winter months, you should at least consider a quilted leather jacket. As the name suggests, quilted leather jackets are designed with a soft interior lining. The jacket itself is made of genuine leather. Inside the jacket, however, a soft quilted material like cotton or wool is added for increased comfort and warmth.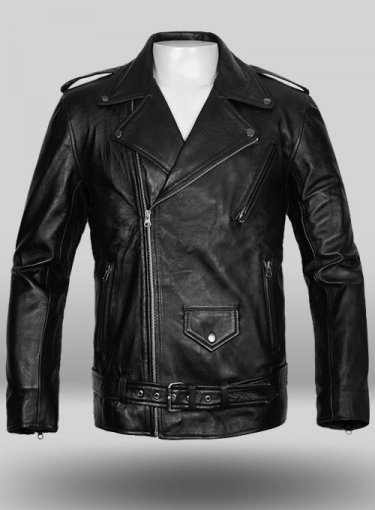 #5) Consider the Quality of Leather from Which It Was Made
Think all leather jackets are made of the same quality leather materials? Think again. Some companies use cheap, low-quality leather, which is apparent from the first time you wear these jackets. They often feel rough, tough and are highly susceptible to damage. A high-quality leather jacket, on the other hand, feels soft, supple, smooth, yet still able to withstand the elements for countless years.  Napa sheep skin leather is arguably one of the highest quality types of leather on the market. It's made from genuine sheep skin that has been meticulously tanned and processed to achieve a superior level of construction when compared to cheaper, lower quality types of leather.
#6) Check the Length
Different leather jackets feature different lengths. Mid-waist is generally the most common and popular length for leather jackets — and this is also the ideal length for most biker jackets. If your jacket extends beyond your waist, it can make motorcycle riding both difficult and uncomfortable. The extra fabric around the bottom of the jacket will "bunch up" in your lap, which isn't particularly comfortable when riding for long periods of time. For this reason and others, it's best to choose a mid-waist leather jacket for motorcycle riding.
#7) Consider the Color
If you've spent any time shopping for leather biker jackets, you've probably noticed just how many different colors in which they come. In addition to traditional brown and black, you can find leather biker jackets available in blue, red, green, yellow and pretty much any other color. With so many different colors, you may struggle to choose one for your biker jacket. To make the process a little easier, though, you can take a look at your motorcycle and other riding gear. IF your motorcycle is black — and you have other black riding gear — it's probably best to stick with a similar black-colored leather biker jacket. This helps to create a more balanced appearance in which everything flows together naturally. Click Here…