Scorpion Covert Helmet
In recent years, the idea of "transformer" helmets has become a hot one.  These helmets are able to be converted into multiple configurations to work best for a few different riding situations.  The "transformer" idea had yet to really be explored with half helmet, until now.  The Scorpion Covert helmet is a half helmet with a whole lot of extras.  The Covert can be converted into three different configurations: a true half helmet, a ¾ style lid and into a full-face style.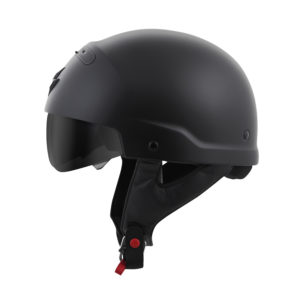 In its base form, the Covert is a highly competent and well styled half helmet.  It features an Advanced LG Polycarbonate shell, which was developed exclusively by Scorpion to be very light and able to better disperse impact.  The aero-tuned ventilation provides ample air-flow to keep your head cool and dry without being noisy.  To protect your eyes, the Covert features a drop-down sunvisor as well.
The attributes listed above make the Covert a solid half helmet, but there is so much more to it.  For a little added protection and coverage, a rear comfort sleeve can be installed to transform the helmet into a ¾ style lid.  If you are riding through an area with a lot of road debris or if you just want a real bad ass helmet, install the front mask portion.  The mask gives off the look of a full face helmet and provides protection from flying debris, though it does not aid in impact protection.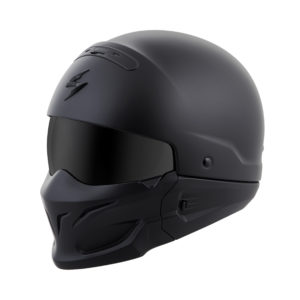 Installing and removing the comfort sleeve and the mask are simple enough that you can make the change with a quick pull over.  All it takes is a few clicks and you're helmet will be completely transformed.  The Covert comes with a smoke sun shield installed, but a spare clear shield comes with the helmet and can be swapped out for night riding.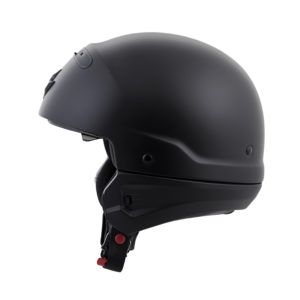 In a segment of gear that doesn't usually get constant updates, it's nice to see the half helmet get some special treatment this year.  Both the Sena Cavalry and the Scorpion Covert lids present something completely new and riders will surely take notice. Click Here…